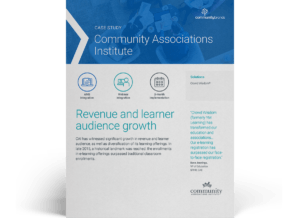 Community Brands collaborated with a team of internal stakeholders to design and configure a learning portal for the Community Associations Institute (CAI) using Crowd Wisdom®. Since their launch, the portal enrollments and revenue have increased each year.  
CAI has now diversified education offerings, including webinars, and an integration with Adobe Connect. With an integration with the CAI "store," the new CAI LMS allows for learners to browse for a variety of learning opportunities with all purchases immediately being communicated back to the LMS. 
Download our study now to learn more about how Crowd Wisdom has helped CAI take its learning program to the next level.